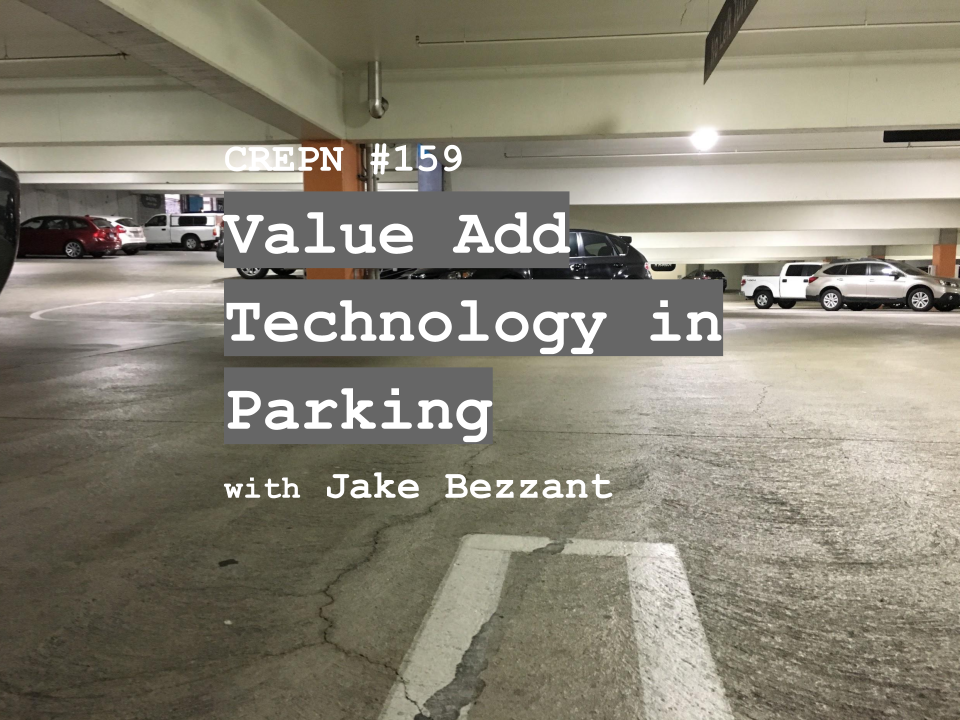 30 Aug

CREPN #159 – Value Add Technology in Parking with Jake Bezzant

<![CDATA[Value Add Technology in Parking can increase revenue and customer experience.     [x_audio_embed][/x_audio_embed] Jake Bezzant, CEO of Parking Sense, takes us through the new technology and benefits of available to parking lot owners.  Installing hardware in conjunction with the downloadable user application provides data that makes the lot work better for all parties. You know the drill.  You have an appointment but first you need to park the car.  If you did not plan ahead, you could end up parking miles away from your appointment.  Or worse, have to cancel your appointment because you could not find parking. It is not uncommon for a parking lot without technology to underperform.  If you cannot tell a driver where to park, the driver may travel through the entire lot before finding one parking spot.  No more. Now, there is new technology in parking available to help you and visitors to your property forget about any parking hassle.
Technology in Parking System
Parking Sense
is a manufacturer, installer and operator of technology in parking.  The system consists of hardware installed at the lot, a downloadable application for users and lots of data to help with your value add strategy.  
You can chose to only use the hardware which provides a visual queue, green or red light to drivers looking for a space.  If you elect to integrate with the free downloadable app, you can eliminate the need for gates and payment machines. Parking Sense has found that users tend to migrate to the application if they do not chose to do so up front.  Use of the application allows the system to communicate with users reminders such as, parking validation, where they parked, and how much time remains for their space.
Parking lot owners can purchase or lease the system.  
Benefit to Using Technology in Parking
The benefit to a parking lot owner using technology in parking is the ability to fully understand their supply and the demand for parking.  This allows you to communicate in real time with drivers exactly where an available spot is located. If you can keep your lot full you increase your income.  When drivers can easily find a space to park, they are happy.
When Parking Sense technology system is installed, property owners are able to over sell parking as much as 300%!  This compares with only 75% sold prior to installation. It is clear that if you own a parking there is a value add opportunity by using technology.  
Future proof your parking lot
The migration to the urban core has created a premium on parking.  Cities want cars off the streets, and the future includes driverless cars.  It is clear that cities will not allow driverless cars to roam aimlessly through the streets.  If you have the technology, you can communicate with cars in real time where they can park in your lot and keep your lot full.
For more go to