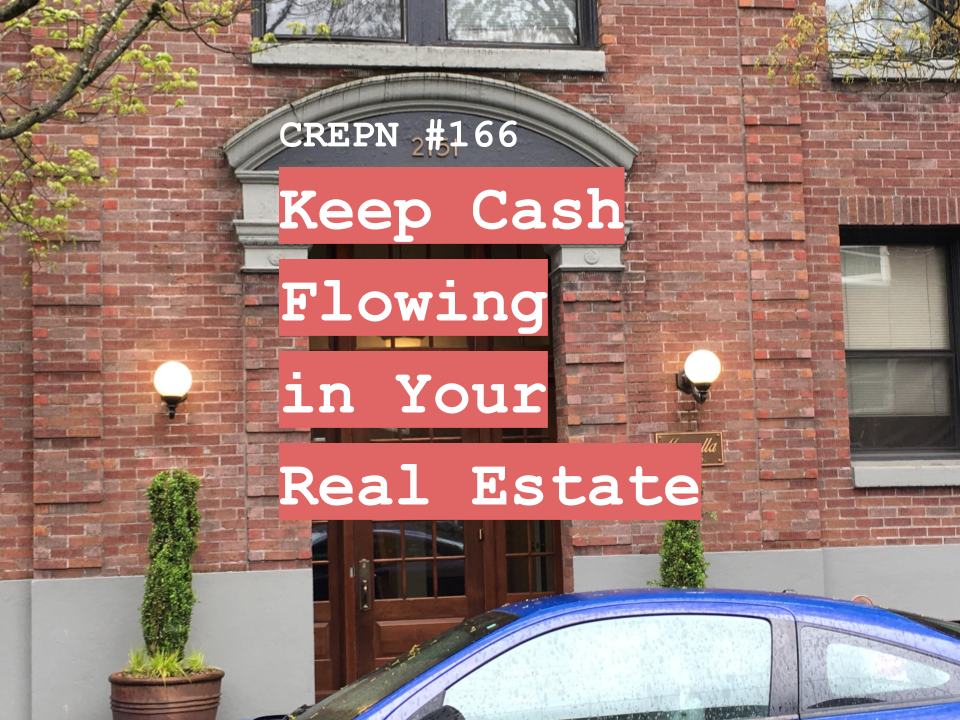 18 Oct

CREPN #166 – Keep Cash Flowing in Your Real Estate

<![CDATA[

Cash flow must be the goal if you intend to replace your salary, so that you can quit your W2 job.

I've experienced first hand and conferred with other investors multiple ways you can screw it up. The following are some ways to keep the cash coming.
Buy Right & Cash Flow on Day One
My friends Jake & Gino from Wheelbarrow Profits stress, "Buy Right"! This is the critical first step. If you don't buy right, it can take years to recover, and keep you from reaching your goal. To make certain you are buying right, you have to know ALL of your numbers. Use something like my Deal Workbook to account for your expenses.

I remember the first couple of single family rentals I purchased. Needless to say, I left some expenses out, because I only accounted for the mortgage, taxes & insurance. What could go wrong when the a repair was needed, the tenant was late, or the unit was vacant. That's right, if you don't budget for these expenses you will pay. So, know your numbers and BUY RIGHT.
Operations
Operations includes the day to day operating of the property. Taking applications, rent collection, maintenance, etc. When you have a property manager in place, it's your job as an asset manager to ask questions and follow up to make sure things are as they should be.

This includes providing regular reports; income & expenses, applications, turns, maintenance, etc. An empty unit is a lost income opportunity and a cost to you. If a property manager is not proactive and waits until after the unit is vacant to coordinate with the needed contractors, your vacancy loss will inflated.

A professional property manager will minimize the down time by communicating and actively marketing the unit as soon as it is known there will be a vacancy. It's been said, "inspect what you expect", otherwise you will be disappointed, and end up with less than you could of.

Capital Expenses
Capital expenses are related to replacing systems; roof, HVAC, plumbing, electrical, parking lot, kitchen & bath remodel, etc. They last for years, and should be budgeted for. If you do not budget for them, they can mess up your projected returns.

For the most success, make certain to include your capital improvements in your startup funding budget. This allows you to improve the property right away and increase the rents for the improved property. Paying for capital improvements out of cash flow will take significantly longer to reposition the property and will drain any potential investor returns. Been there!

An experienced investor will not only budget for these, but also account for them as capital expenses, outside of the operating budget for maintenance. When you include capital expenses as maintenance they will lower your NOI and your property's value. Don't do it!
Disaster
You don't expect a disaster, but it is always a possibility. Your ability to collect rent could suddenly stop if your property is damaged. The risk can mostly be transferred to an insurance company, through the purchase of a policy that provides Business Income coverage. Be careful, not all policies include Business Income nor cover all perils, causes of damage.

Common Perils
Fire, Hail, and Frozen pipes, are some of the common perils typically covered by a property policy. Windstorm including tornadoes & hurricanes can be an extra charge depending on where your property is located.

Not Common
If your property is located in a Flood Zone, your lender will require Flood coverage be in place prior to closing. However, this does not mean that if your property is not located in a flood zone that it cannot suffer a Flood loss.

Earthquake and Landslide are rarely required by a lender, but regularly purchased by investors whose primary source of income comes from their real estate. if your property is located in an active fault seismic zone.

To learn more about protecting your cash flowing property from disaster, email J. Darrin Gross