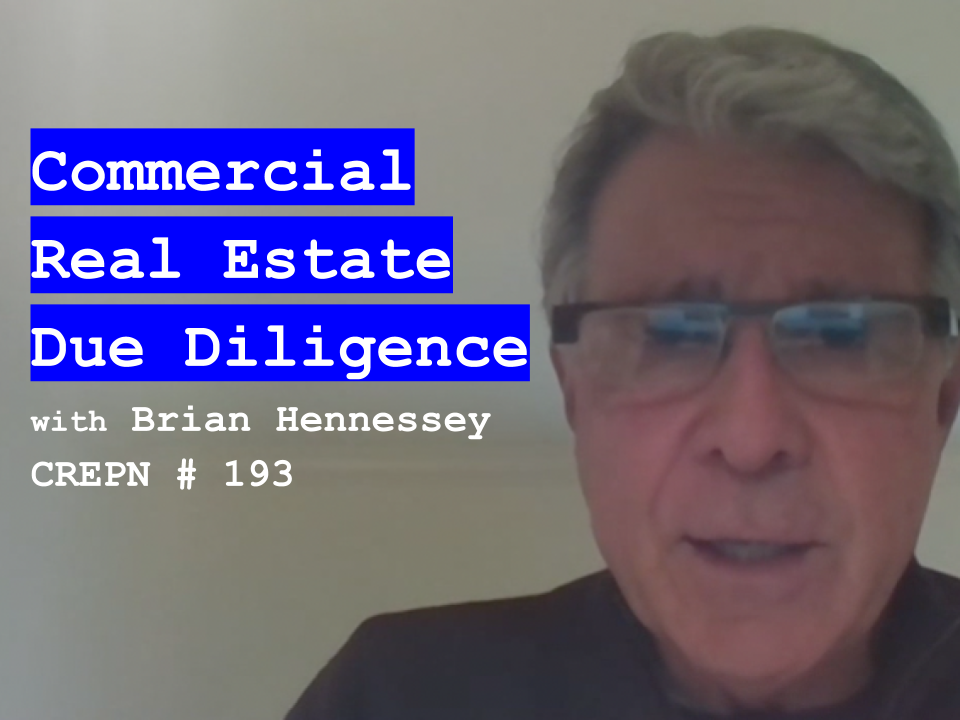 25 Apr

Commercial Real Estate Due Diligence with Brian Hennessey – CREPN # 193

<![CDATA[

Commercial Real Estate Due Diligence is the key to buying right. If you fail to underwrite properly, you will learn the hard way.


Brian Hennessey, is a 30 year commercial real estate veteran. He has learned and authored multiple books on commercial real estate, including, "The Due Diligence Handbook For Commercial Real Estate".


FREE 14 Page Comprehensive Due Diligence Checklist for Real Estate Investments

TEXT "CRE" to 444999


After 18 years as a commercial real estate broker, Brian took a position as VP of acquisitions for one of his clients. How different could it be from the broker role versus working for the investor making acquisitions?


The first large office deal almost got Brian fired. The seller quickly realized Brian did not know what he was doing and took advantage of Brian's lack of experience. The steps Brian missed during due diligence his boss dearly and almost cost Brian his job.


Brian had a choice to make. He could either walk away and go back to the broker side, or he could create systems to make certain he never made these mistakes again.


From this point, he created a reference manual. He included questions to ask, issues to be aware of and checklist so that he would not miss these items again. For the next 6 years, he used, and added to his reference manual while he oversaw the acquisition of over 9 million sq feet.
Back to Broker
When he returned to the broker side, he made his reference manual available to clients and prospective clients as a tool to help differentiate himself and his expertise from other brokers. His clients loved it.

This is when he decided to spend the money to properly publish it on Amazon, where it remains a best seller for commercial real estate due diligence.

Old school brokers did not want to show up at physical inspections. They felt it opened themselves up to problems. So, to avoid problems, they left due diligence up to their clients.
Now, a good broker has to be present at the inspection. If your broker doesn't know something, a responsible broker needs to find professionals that do. There is too much at risk. If the broker ends up in court and the judge ask if he was going to be compensated for the sale, the broker will be held responsible.

Top commercial real estate brokers are making due diligence a priority. They are bringing professionals onto their team; attorneys & cpa's, etc.
Due Diligence Mistakes
Due diligence without a process or system is a recipe for disaster. To avoid common simple mistakes, create a process & system will help you make an informed decision and avoid the deals you should never do.

Remember, the seller will not come to you with a list of things that are wrong. They hope you don't find anything wrong. They want to get the deal done.
Common Due Diligence Mistakes:
Mis-value the property.  There are two values to consider when buying a property.  The "pre" due diligence value versus "post" due diligence value.  One reflects the value with no adjustment to fix the needed capital improvements, the other has been adjusted to reflect the cost of the work needed to operate the property profitably.   

Lender underwriting requirements.  Pick up the phone and talk to a lender about what they can do for you and what they need from you.  Do this before you sign a purchase agreement. Otherwise, you are wasting everyone's time.

Local compliance.  Take the time to personally go to the city or county that governs the building codes for the property. Find out if codes are coming that will affect you and your operation of the property.  It's one easy conversation that can alert you to any coming issues the seller may not be aware of.

Tenant leases.  When you buy commercial real estate, you are buying the income stream.  If you do not know the quality of your tenants, and their ability to pay, you can end up with unnecessary vacancies and collection problems that will not help your bottom line.  

Third party reports.  Every lender requires various third party reports; inspections, soil, appraisal, etc.  Most lenders are limited to using reports provided from their list of approved providers.  Make certain you know who is on the list before you order any reports. Otherwise, you will likely get to pay for the report twice.  

Inspect the Closing Statement.  It takes time do all the due diligence.  The preliminary closing statement is your chance to go through all prior communications and confirm that everything is as it is supposed to be.  Professional sellers are notorious at adding fees to the closing statement. If you do not ask for the closing statement in advance of the closing and review the numbers line by line, you will not get the deal you planned for.  Get a second set of eyes to check the numbers. Ask questions, get proof.

Walk the entire property.  Inspect what you expect.  Once the deal is final, every defect is yours.  Even if you have a claim against the seller, you will be tied up in costly litigation to get your correction.  Inspect everything,

Talk to vendors.  Vendors that service the property know the condition and quirks of the property.  If you don't ask, the answer is always no.

Spend time at the property.  What is the property like in the evenings, on the weekends, in the morning and middle of the day.  If there are issues, these will become your issues. Know what you are buying.

Once you learn how to do Due Diligence properly, brokers and sellers will know and will be forthright with the information. Learn how and create your process and systems to do it right everytime.
BIGGEST RISK
Each week I ask my guest what is the Biggest Risk they see that real estate investors face.

BIGGEST RISK: Assume everything is ok.
How to manage the risk?: Assume Nothing, If you assume anything, you have to assume there are problems everywhere. When you know how to do the deep dive on due diligence properly it will minimize the risk.
Commercial Real Estate Due Diligence is the key to buying right.  If you fail to underwrite properly, you will learn the hard way.

For More go to:
FREE 14 Page Comprehensive Due Diligence Checklist for Real Estate Investments
TEXT "CRE" to 444999

]]>