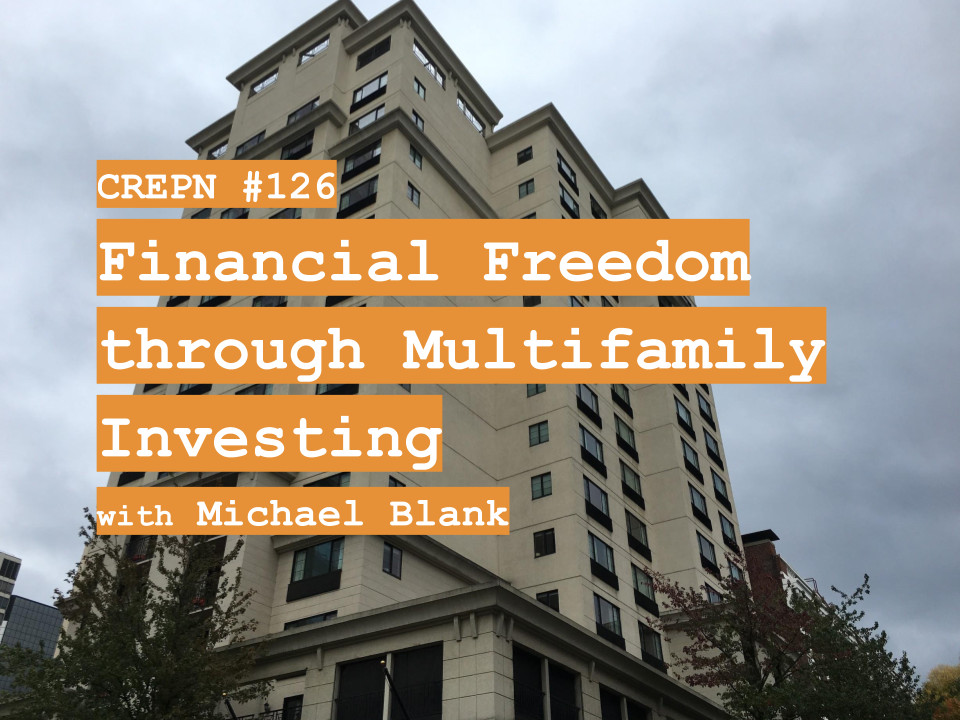 11 Jan

CREPN #126 – Financial Freedom through Multifamily Investing with Michael Blank

<![CDATA[Financial Freedom is a common goal of real estate investors.  Most start with a single family property, thinking that over time, they will grow their portfolio to provide enough income to give them freedom from working for others. [x_audio_embed][/x_audio_embed] Michael Blank is an engineer turned real estate investor.  His experience from single flips and analysis on what it would take to reach his goal led him to the advantages of multifamily investing.   Most new investors feel they are unable to pursue multifamily as a real estate investment strategy due to their lack of experience and lack of money.
How to Overcome Your Lack of Experience
Get some education:

 Some simple education will prepare you to speak intelligently with brokers and lenders.  You can do this for free, or take a course.  Without this, you are likely to be identified quickly as a newbie that will not get the help you need from commercial real estate brokers.

Create a team:

 Find the most experienced property manager in the market, a respected real estate attorney, etc, and get them on your team.  This will provide you instant credibility with local brokers and lenders when you are identified as working with locally known experts.
How to Find Money
You need money to acquire a large real estate investment.  The good news is there are lots of people with money to invest who are looking for opportunities to invest.  High networth individuals are not finding a consistent return on their money and they are paying too much taxes.
Real estate can help these investors looking for opportunities.  For this reason, it is important that you are not shy about what you are doing.   Let others know that you are doing multifamily investing.  Depending on how well you know them, ask if they might be interested in learning more about your opportunity.   
If you don't have the network, but have a deal, there are those who are experienced at raising capital, ie mentors and other experienced investors and can help you.  This is an excellent opportunity to be an active participant in a large deal and get experience that you will need to find your next deal.
Financial Freedom
Financial freedom is available is available to you through Multifamily investing.  Michael's experience shows that from the time an investor makes the decision to become an investor, the "law of the first deal" takes hold.  The first deal leads to multiple other deals, literally making the investor financially free as little as 3 – 5 years.  
For more go to:
http://www.themichaelblank.com/
[author title="About the Author"] ]]>