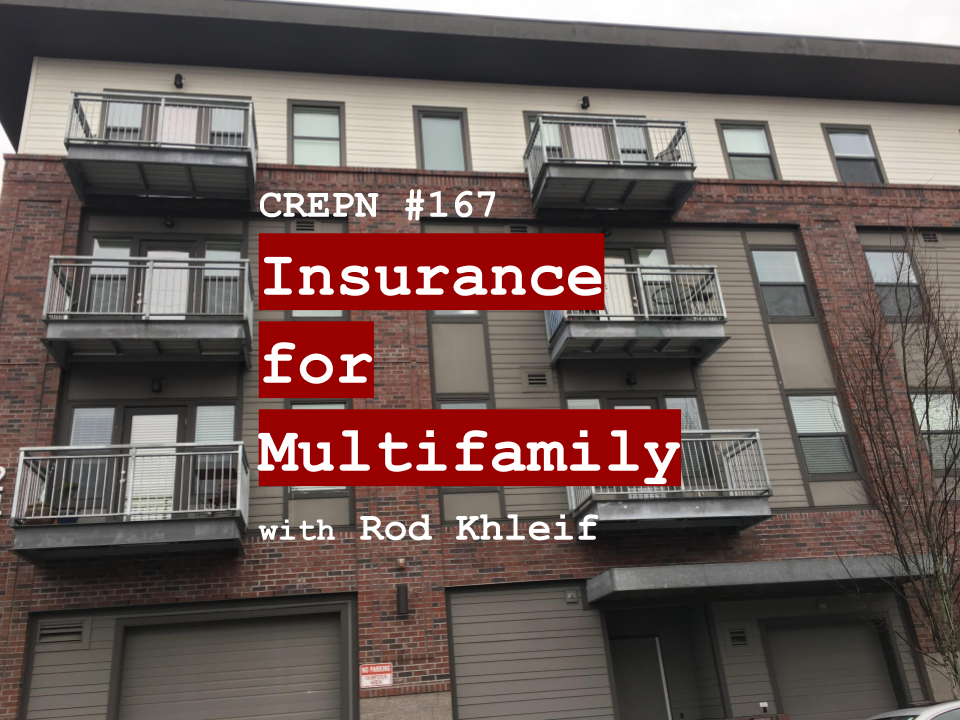 25 Oct

CREPN #167 – Insurance for Multifamily with Rod Khleif

Insurance is required to close any Multifamily Real Estate deal with lender financing. Recently, Rod Khleif invited me on his podcast, Lifetime Cashflow Through Real Estate to discuss insurance for Multifamily.

Rod Khleif is a veteran real estate investor syndicator, real estate mentor, and podcaster based in Sarasota, FL. We discussed steps multifamily investors can take to be successful in procuring insurance for your property.
How to Chose Your Multifamily Insurance Broker
Insurance for Multifamily is very specific. To make certain you are working with a broker / agent that can help you, here are some questions to ask:
Ask your CRE Broker & Property Manager for a referral to an Insurance Broker. An experienced Insurance Broker will be plugged into the Commercial Real Estate community.
Ask the Insurance Broker/ Agent to describe their experience with Multifamily real estate.
Find out if the Insurance Broke specializes in Multifamily. So many agents have no speciality and may not fully understand the coverage needed.
will writ isl If you are working with your home and auto agent, you are likely not getting all you need.
Property Questions You Need Answered
If you are purchasing a property that is more than twenty-five years old, you have to ask some questions not required for newer properties. There are 4 Building Systems that every Insuance Underwriter wants to know about on older buildings. If you want the most affordable insurance, find the answers to the age and details of work done to these systems:
Roof; what year the roof was replaced?
Electrical; what has been done to update the Electrical System and when?
Plumbing; what material are the pipes made of for both supply & waste lines. If updated, when, and details as to what was replaced.
Heating and Cooling system, type and details of when and type of updates.
Sometimes, you can determine from the seller's financials dates and significant amounts spent on system updates. During the due diligence period, review the financials and ask quesitons.

For Liability you want to walk the property looking for trip and fall hazards. Are the hand railings firmly attached, stairs in good shape, any uneven walking surfaces, or cracks in the concrete? All of these are potential claims that the insurance company is looking to avoid. If the insurance company's inspection finds that your property has these, you will receive a cancellation notice, or inspection report requesting that these need to be repaired for the carrier to continue providing coverage.

For your
click here.

Price and Coverage Tips
For your best pricing, start talking with your Insurance Broker early. The older, more value add opportunity you are buying, the more information will be required, including Seller Loss History, to tell a story the Underwriter wants to hear.

Insurance is complicated. There are lots exclusions and endorsements that if you or your insurance broker do not ask for can leave you with big coverage challenges in a claim. The following are a few specific items to ask for:

Get a Replacement Cost Estimate from your Insurance Broker. The policy is written on the expectation that if your have a total loss, it will be able to pay for a complete rebuild. DO NOT USE the Seller's coverage limits. I've seen too many buyers set themselves up for a problem by using old outdated values.
Agreed Amount Clause is a coverage option available on most Property policies. When you select this option, you and the insurance carrier agree on the value of your property and ELIMINATE the possibility of a Coinsurance Penalty on a claim settlement.
An Umbrella adds additional limits of Liability protection above your Underlying General Liability; will drop down if your General Liability limits are exhausted, and can pick up claims not covered by your Underlying General Liability. They provide a tremendous amount of coverage for a little bit of money. Buy an Umbrella.
10 STEPS TO LOWER MULTIFAMILY INSURANCE