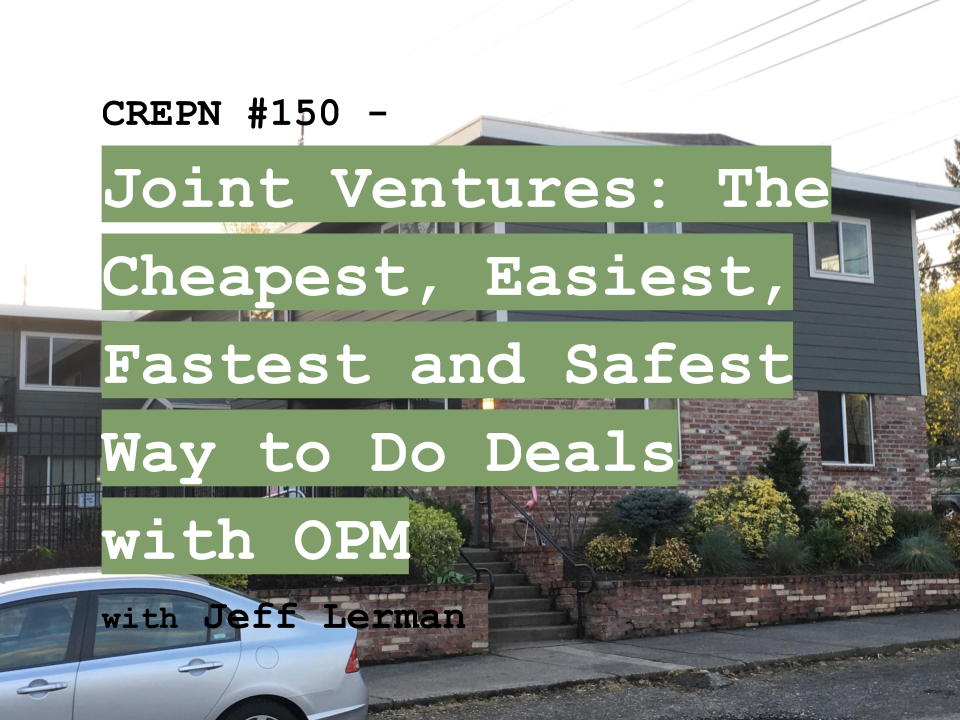 28 Jun

CREPN #150 – Joint Ventures: The Cheapest, Easiest, Fastest and Safest Way to Do Deals with OPM with Jeff Lerman

<![CDATA[Joint ventures are an option every real estate investor should know.   [x_audio_embed][/x_audio_embed] Growing your real estate portfolio is capital intensive.  Eventually you will run out of your own money. When real estate investors reach this point, you have to look for other people's money, OPM in order to keep growing. Jeff Lerman, the Real Estate Investors Lawyer, works with real estate investors.  He takes us through the benefits of joint ventures compared to syndication.
What is a Joint Venture
A joint venture is the coming together of two or more parties to achieve a goal.   It is the cheapest, easiest, fastest and safest way to do real estate deals with other people's money.  
The members of the joint venture must take an active role in the work to meet the goal.  Investors cannot be passive. Roles must be defined, and records must be kept in order to satisfy any legal challenge of the legitimacy of the joint venture.    
Main advantages of a Joint Venture:
Risk diversification, is the primary benefit of a joint venture.  You are able to spread your risk from an all or nothing position. Your potential loss can be lessened when you invest across multiple deals.
Risk mitigation,  You gain the input from an experienced investor to test and confirm your conclusions on the opportunity, will it work, or should you pass.   

Not a security.  A joint venture does not require the extensive legal paperwork which is required in a syndication.   

Potential for future deal flow.  When you join forces with an experienced investor, you are likely to be invited to participate in future opportunities provided the original deal goes well.
Simple to set up.  Unlike a syndication, a Joint Venture is not a security and does not require the extensive legal expense associated with a syndication.  There is no private placement memorandum, etc when establishing a security.
In all cases, joint venture or syndication, pick your partners wisely.  Set it up right. The last thing you want is to get tied up in some lengthy, costly litigation that tears apart the wealth you have worked so hard to build.  
For more go to:
http://www.realestateinvestorlaw.com
[author title="About the Author"]]]>