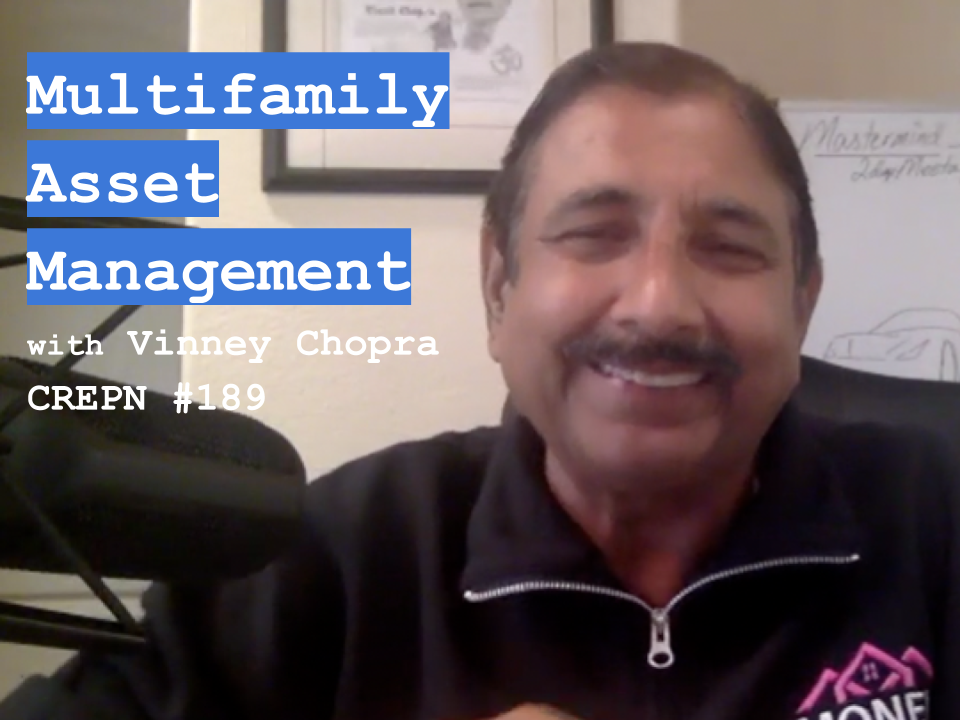 28 Mar

Multifamily Asset Management with Vinney Chopra – CREPN #189

<![CDATA[

Multifamily Asset Management is the rarely talked about, but vitally important, required aspect of multifamily investing success. It is key to realizing the profits investors expect.


Vinney Chopra shares some of the steps successful operators take to make their multifamily investment to achieve peak performance and maximum returns for their investors.
What is Multifamily Asset Management
Multifamily Asset Management is not property management. Asset managers manage and work with property managers. The asset manager is hired by and reports directly to the syndication principal / sponsor. They are not responsible for interacting with investors.
Asset Management Duties
Asset managers engage weekly with property management to keep them focused on the immediate operational task at hand. Additionally, they make certain progress is being made towards the end goal. These calls can occur in person, but more often is done through phone or video calls.

Each weekly call will address specific key performance indicators including:
Collections
Utility collection and RUBS
Delinquencies in rent
Occupancy and Vacancy reports
Price sheet, reflecting unit rent prices
Budget versus actual income and expenses
Capital improvement projects
Renovation Schedules, detailing the work needed to complete so the unit can be rented. If work cannot be performed by property management staff, subcontractor proposals are sought.
Vacancies, unit turns, collected rents, delinquencies, rent increases, vendor contracts, and capital improvement work schedule for larger value add projects.
Property Management Duties
The property management team consists of the following members:
Community Manager: leader of the property management staff.
Lead Maintenance / Technician: reports to Community Manager.
Assistant Community Manager: is a Community Manager in training and assist the Community Manager in all aspects.
Porter / Helper: Assist the Lead Maintenance Technician.
Make Ready Person: Responsible for turning units between residents.
The number one responsibility of the Community Managers team is leasing units and rent collection. This is achieved through regular communication with the residents so that they understand residents intention regarding the renewal of their rental agreement.

Marketing available units using all of the social media websites that target people looking for apartments in your neighborhood. There are several tricks management must be savy to in order to keep your property as a top offering. When these are employed, your property is featured more prominently and you receive multiple inquiries from prospective residents.

Additionally, the management team must deliver the service from their customers, the residents. This means promptly attending to the service requests, and following up with the residents to gauge their satisfaction.

Paying attention the physical appearance of the grounds goes a long way to communicating pride in the property. Management must walk the property daily and recognize and correct any problems or potential problems as soon as possible.

This level of care can provide referrals from your happy residents to their family and friends who can become future happy residents. Only when you are in tune with your residents can you achieve expected rental retentions.

Additional Management Duties
Management must constantly evaluate their staff and answer the question, "Do we have the right people in place and the needed equipment to complete the job?"

When your team acquires or is working to sell your property, your management team is critical to the transition.

Prior to acquiring a property, it is important to establish accounts with all utilities and vendors to make certain all of the services continue and there is no interruption in service.

When you are ready to sell, your property management team must make certain your rents hold steady. Any dip in occupancy can create problems with valuations and the sale. Your property management will be the face for your property and company when dealing with open houses, and property tours for commercial real estate brokers and investors.
Community
When Asset Management and Property Management work together, they can create an inviting community for both current and future residents. Here are some of the physical property traits Vinney has employed that work.

Make the grounds as attractive as possible with well trimmed hedges and landscape lighting.
Four large flag poles that fly, the US, State, Property & Seasonal flag
Amenities and reasons that create reasons for residents to interact with staff and fellow residents. These include: inviting club house with flat screen TV's, cookies, water and Friday morning Breakfast on the Run.
Dog parks, more and more residents have dogs. This is an inexpensive place for residents to inner act with other residents and get to know each other.
BIGGEST RISK
Each week I ask my guest what is the Biggest Risk they see that real estate investors face.

BIGGEST RISK: Declining Occupancy. If occupancy goes down just a few percent, it can really hurt your

How to manage the risk?: Do not hesitate to act. Provide incentive to property management to keep the property occupied at and above 95%. For instance, the office is closed on Saturdays as long as the occupancy is above 95%.

BONUS RISK: Delinquencies; Why is the rent not being paid on time.

How to manage the risk? Pay attention to the rent as a percentage of income. If the residents do not make enough income, they cannot easily pay the rent.

EXTRA Bonus Risk: Walkways must be free from trip hazards.

How to manage the risk?:
Bring in someone from the outside to inspect the condition of your property. When you are looking at your property day in and out, you can lose sight of certain conditions that need to be addressed to avoid any needless injury, claim or lawsuit.

For more, go to:
Text: LEARN to 474747

]]>