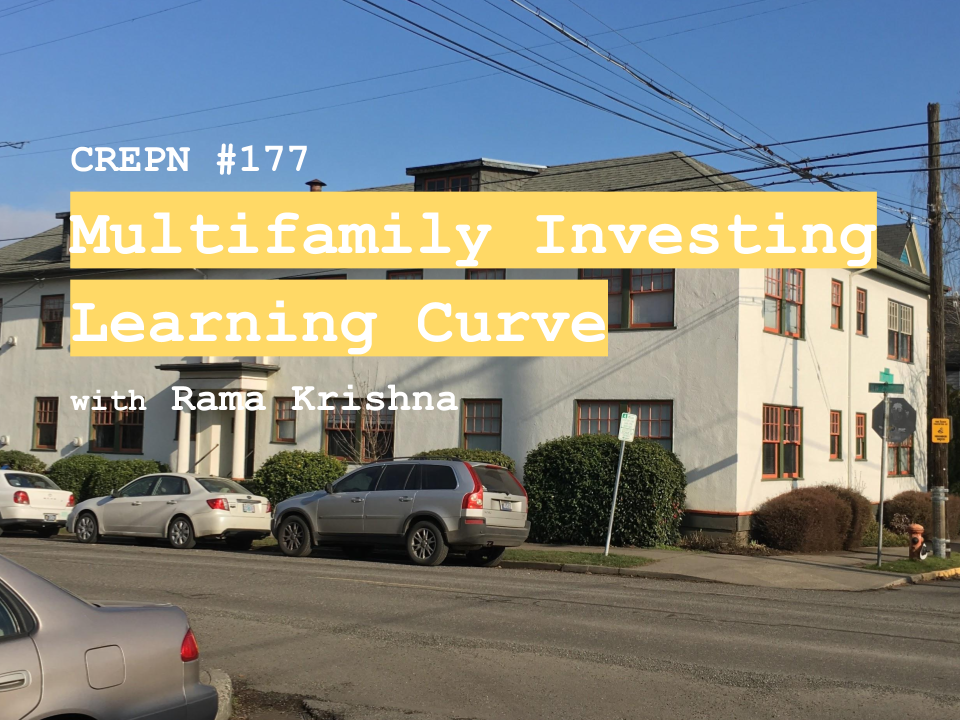 03 Jan

CREPN #177 – Multifamily Investing Learning Curve with Rama Krishna

<![CDATA[

The Multifamily investing learning curve is steep.


Real estate investing has been presented in every way imaginable. But, there is only so much you can learn from a book, a blog or podcast. To propel yourself on the learning curve, you have to invest your money and time in a deal. If you like to learn more from mistakes, go it alone. For those who would rather shorten the learning curve, partner with someone who has learned from their mistakes.


Rama Krishna with Zovest Properties LLC did 5 deals from July to December 2018 and acquired 153 units. His decision to invest in Multifamily was made concrete after realizing the path to real passive income was not to acquire 1000 single family homes.
Lessons realized from Multifamily Investing
Property Class Matters
Prior to investing in a deal, Rama analyzed multiple deals. The goal was to find a value add opportunity that he could partner with friends and family to acquire. After acquiring three separate deals, he learned first hand the difference between a C+ and a D property; effort required to collect rent.

If rent is what drives your revenue, and it's not easy to collect, that may be the reason the property is offered at a higher cap rate. Now he recognizes the benefit of a stabilized property and rent that is collectable.

Lesson: If you want regular rent, buy higher class properties.
Value Add Levels
Multifamily investors love to be able to acquire a property and reposition it; increase occupancy, rents, NOI and value. An inexpensive purchase with lots of potential and heavy lifting, renovation can really limit the cash flow if not properly capitalized.

If you acquire a property that needs a lot of work, get firm construction estimates and plan your capital requirements accordingly, especially if you are syndicating. Recognize that a construction loan is expensive, and you have to complete the project as soon as possible so that you can get more competitive long term financing.

The easier path is to find a lite value add property.  These are characterized by a property with dated surfaces and undermarket rents.  Ideally, you can make units more appealing by spending a small amount to get market rents.

Lesson: Be realistic when underwriting value add reposition play.
Domino Effect
Multifamily investing is people game. Prior to closing his first property, commercial real estate brokers would show Rama only properties which were listed for sale. After he was a proven closer, brokers started calling him with off market deals.

Lesson: Be a closer, and the deals will find you.

For more go to:
Rama Krishna
Zovest Properties
Invest. Earn. Retire.
408 904 9990

]]>