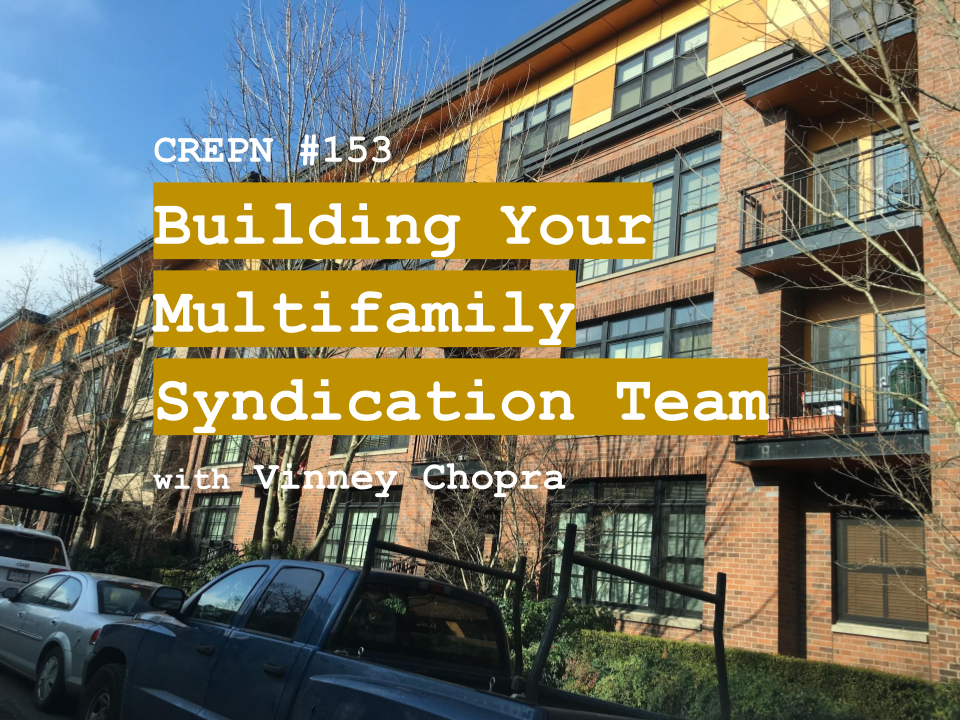 19 Jul

CREPN #153 – Building Your Multifamily Syndication Team with Vinney Chopra

<![CDATA[Multifamily Syndication is a team sport.  You will multiply your success when you create a winning team. [x_audio_embed][/x_audio_embed] Vinney Chopra has successfully purchased over 26 multifamily properties through syndication.  In this interview he describes the members you need on your multifamily syndication team for success. Relations at all levels are key to your success in all real estate investing.  For newer syndicators, you can overcome a lot when you have experienced professionals on your team. Once you have selected an emerging market to invest in, you need to find the following members for your team. Partner: this is the person you identify with that shares your vision and can share in doing the work that needs to get done.  Someone with a different skill set that compliments you tends to work best. There are numerous jobs that need to be taken care of and together you can divide the work and conquer.  One thing to consider is a partner with strong financials. Chose your partner wisely because you will likely be working together for multiple years.
Multifamily Acquisition Team
Commercial Real Estate Brokers
are essential to success.  Due to the nature of commercial real estate, having relationships with multiple brokers can pay dividends.  Brokers have the relations with the local property owners, know the market, the properties, owners and who is a potential seller.  You will do best if you present your specific buying criteria so they know exactly what you are looking for.
Loan Broker
is your source of funding.  The amount you will qualify is dictated by the networth of your general partners.  An experienced loan broker will know the various programs available and be able to find you the best funding.
Attorneys
are critical to the legal structure needed for your success. The attorneys will form the LLC entity for the property and your operating company.  You also need a securities attorney to prepare the private placement memorandum, operating agreement and subscription agreement. Each of these are critical your ability to raise money and stay out of trouble.
Multifamily Due Diligence Team
Property Manager
has the critical needed experience managing multifamily properties.  The property manager will also help recognize issues during your inspection that need to be addressed with the seller.  An experienced property manager has will convey confidence to lenders and your investors. A good property manager has relations with contractors, knows the laws and has systems to deal with most situations.  Their experience is key to the profitable operation of your property.
Investors
: Start talking to everyone as soon as you decide you will be investing using syndication model.  You must have a prior relationship with your investors who invest in your syndication. Without investors, you will never buy a property.
CPA:
Your CPA will prepare the annual financials you need to communicate the property's performance to your investors.  Your investors will expect your numbers to be presented in a standard accounting format.
Contractors
of all types.  The good news is that with multiple units, you have the chance to achieve economies of scale.  When you find a quality contractor that provides the best service and price, add them to your "preferred vendors" list.  These are your go to solutions when a problem arises. Let the contractors know that there will be additional work in the future and see if they can recognize this future work in their pricing.
For more go to:
www.vinneychopra.com
For your FREE Multifamily Syndication Underwriting Tool
TEXT "Syndication" to 4747
Prior episodes with Vinney Chopra