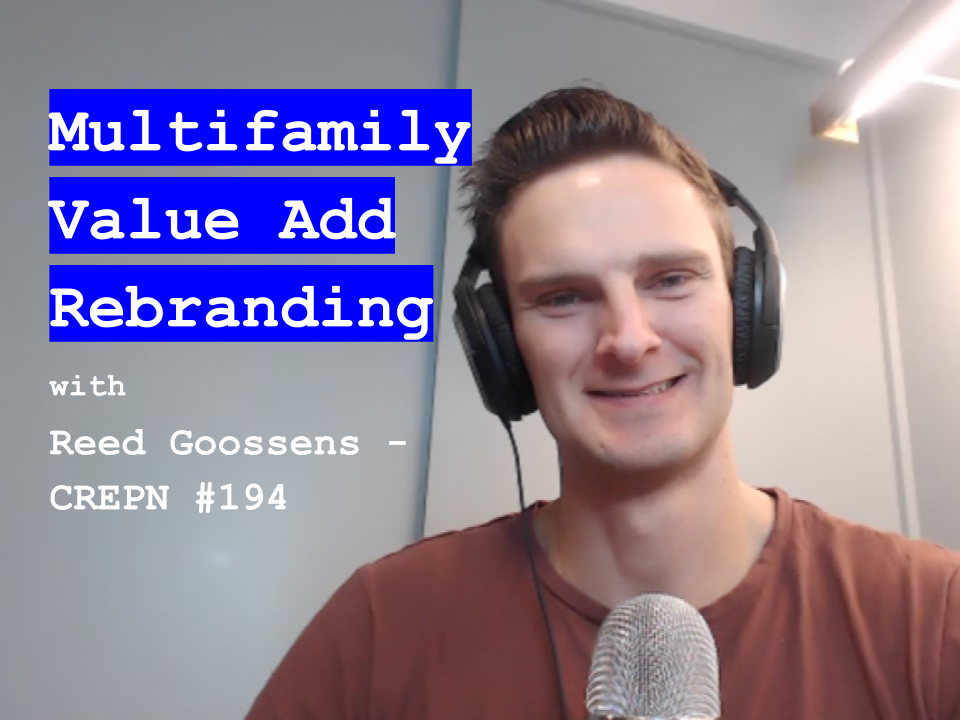 02 May

Multifamily Value Add Rebranding with Reed Goossens – CREPN #194

<![CDATA[

Multifamily Value Add Rebranding is one way to recapture hidden value for investors looking to increase the value of their multifamily property.


Reed Goossens, an engineer by training, has put his project managing skills to work in his multifamily syndication projects. The normal syndication hurdles include; pick a market, find the property, get it under contract, raise capital, assemble the team, manage the asset, operate the property and make a profit for the investors.


Reed and his team at Wildhorn Capital, have employed a value add strategy where they have created additional value through rebranding their multifamily properties. Wildhorn Capital has identified the following as its investing parameters for properties where they can add value for their investors:
1980's and newer Class B assets
Neighborhood Median income $50,000 – $60,000
Primary market with population growth
In the path of progress
They have determined that properties matching this profile are the most stable housing during downturns.
Why Rebrand
Why consider multifamily value add rebranding? When does it make sense to invest the additional time and money to rebrand a multifamily property? For an older, tired property in the path of progress that is competing against new construction, a rebrand can reposition the property so that it competes more favorably against its newer neighbors.

A new name, signage, paint, and appearance really makes people notice. The increased financial performance due to exterior improvements are less measurable than money spent to upgrade a single unit. However, the perception lift raises the spirits of the management staff, which transfers to the residents. This energy makes rent increases easier, even for units that are not yet renovated.

Steps to Multifamily Value Add Rebranding
The two biggest steps to a successful multifamily value add rebrand involve updating the exterior of the property and the interior units. Prior to closing on a new property, Reed and his team will engage the services of an architect designer to come up with ideas on how the existing property can best be repositioned. The plans are then given to his General Contractor to determine the cost. After some budget decisions, the plans are made for how to best move to get the renovations accomplished as soon as possible.

Exterior Renovation
The primary goal is to achieve a new look and feel for a tired property. This starts with the exterior to create curb appeal. The easiest most direct ways include: changing the accent paint on doors & trim, landscaping, leasing office update, workout facilities, pool, etc.

The updated exterior gets prospective residents excited about living in your property before they ever step foot into a unit.
Interior Renovation
Separate from the exterior renovation budget, is a budget dedicated for interior renovations. To do the level of renovation needed to achieve the desired rent increase, Wildhorn budgets between $5,500-$6,000 per unit. The older properties tend to cost more due to additional drywall work needed if opening the wall between the kitchen and living room to make the units more inviting.

The goal is never to renovate 100% of the units. At most they will renovate 40-60% of the units.
The renovated units will get new floor coverings, appliances, paint on walls & cabinets, updated countertops, modern door pulls on cabinets and new track lighting. The balance of units are left as the "classic" model with a lower price point.

This interior renovation strategy serves two purposes. First, this provides the property management a smorgasbord of price point options to potential residents. Secondly, it provides future buyers with some room to create additional value for their investors.
Additional Considerations
The following are some specific lessons learned from rebranding and renovating multifamily properties.

Be Conscious
Be conscious of where you are spending your renovation money. It is important to recognize where more people will take note of your efforts. Common areas with high traffic are the priority; around the pool, in the club house, parking lot, etc.
Lighting & Ceilings
To update the lighting, they remove all "dangly" lighting and replace with modern LED lights. A favorite light is the "slim service puck" which mounts directly into the junction box of an existing light fixture.

One physical space characteristic they recognize is the ceiling height. Reed and team have found that ceiling height makes an incredible difference towards your sense of space. Older properties have 8 ft ceilings, while newer properties are 9 ft. That one foot of difference in ceiling height creates a much larger sense of space.

In some instances, they have popcorn ceilings are in place, which is less desirable than a modern knockdown texture. However, due to cost to removal cost and the lack of additional rent potential for replacing, they leave the popcorn ceilings in place.
Timeline
The first six months are critical to getting the exterior renovation made. You want to get this knocked out as soon as possible. The renovations are a disruption to your residents and you have to be conscious of this. After the exterior is complete, move to the interiors. Here you can take more time, and be strategic about how to proceed for maximum results.
General Contractor
If you are doing an involved, heavy lift, renovation, be sure to utilize a third party general contractor. Do not expect your maintenance staff to take on this project. The general contractor can mobilize quickly, focus, and knock out the project so that your property can get back to normal operation.
Leasing Season
Be conscious of when you are disrupting the usability of the leasing office. Typically, summer is the busiest season. Renovating the leasing office during the summer, you can be disastrous.

BIGGEST RISK
Each week I ask my guest what is the Biggest Risk they see that real estate investors face.

BIGGEST RISK: Insurance Rates for properties built prior to 1990

How to manage the risk: Acquire properties built mid 1990's and newer that have 9' ceilings and fire sprinkler suppression, as the building codes required. Properties with fire suppression will benefit from lower insurance premiums.

Bonus Insurance Risk: What is the age of the roof, has there been any hail damage?

How to manage the risk: Know the age of the Roof and how quickly it will need to be replaced. If you do not have this built into your capital improvement budget, you will not be able to accomplish you have budgeted for.

BIGGEST Non Insurance Risk: Underwriting – There are so many risk. You have to know what to look for when investing in a property.

How to manage the risk: Find the right deal. Underwrite it correctly. Know what assumptions have you put into your underwriting to protect your investors.

As the market cap rates compress, we look for newer properties because we can buy them for the same cap rate as older properties that have more skeletons in the closet. Properties built since 1990 will have individual utility meters, 9 ft ceilings, sprinklers, individual heaters and are less likely to have potential construction risk that can bite you in the ass.

Know where are you buying. Be in the path of progress. Core markets with population growth and multiple employers are where we are investing. We are not looking in tertiary markets.

For more go to:
Email: [email protected]

]]>