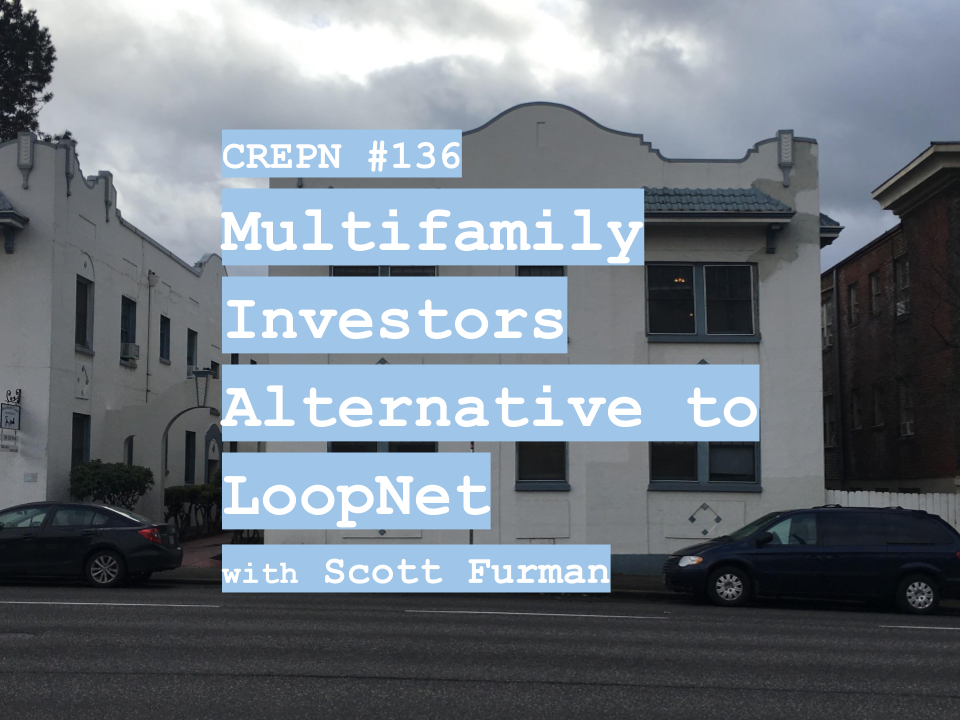 22 Mar

CREPN #136 – Multifamily Investors Alternative to LoopNet with Scott Furman

<![CDATA[Multifamily investors rely on brokers to find deals.  Beyond the broker relationship, investors look online; LoopNet, Costar, etc.   [x_audio_embed][/x_audio_embed] Scott Furman is an experienced multifamily commercial real estate broker that created ApartmentBuildings.com to compete with LoopNet and Costar. The name says it all.  Unlike LoopNet or Costar, ApartmentBuildings.com is exclusive to Multifamily, any size, from land for sale to fully occupied apartment complex. Brokers Convert The pain of change is the price of progress.  The number one challenge for Scott and his team has been to gain brokers attention and confidence.  Scott & his team's persistence has paid off.  Today, ApartmentBuildings.com is actively marketing properties in 5 states: CA, AZ, TX, FL & NY.  The brokers listing their properties are getting results.   Brokers that commit to list on ApartmentBuildings.com  are provided a marketing boost not available on other sites.  If they will list their property on the site first, before listing on other sites, Scott and his team will present the property immediately to the users whose investment profile matches!  This instant list of interested buyers has created numerous sales for brokers.   While the current footprint is not nationwide, the focus on multifamily is valuable to both brokers and users due to the focused nature of the platform.  
Gain Access
You can create a free
ApartmentBuildings.com
account in just 30 seconds by going to apartmentbuildings.com/login.  Once you establish a login, you are able  to create an investment profile for the type of property you are looking for.  
After you set your parameters, you will be receive first notice for all newly listed properties that meet your investment profile.  
Users can specify:
Number of units

Where you are looking to invest

Deal size
Additional support built into the sites.  Get professional advice and input regarding numerous matters involving multifamily investments.  Including:
Valuation: get a professional opinion on the value of a property.

Lending: Make contact with lenders that specialize in Multifamily nationwide.
For more go to:
https://apartmentbuildings.com/
[author title="About the Author"]]]>