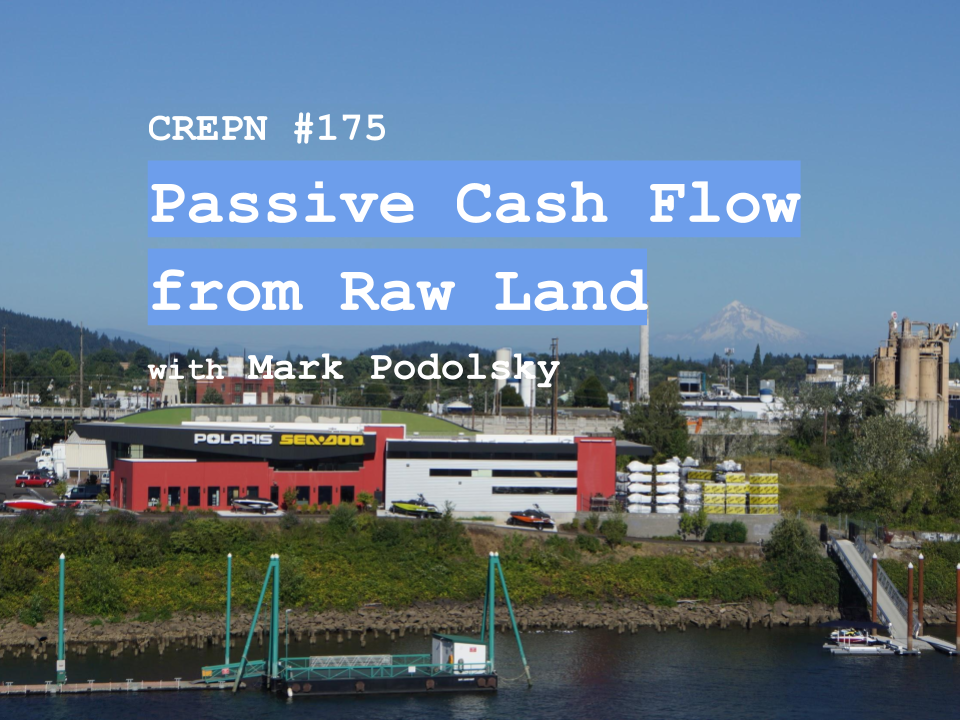 20 Dec

CREPN #175 – Passive Cash Flow from Raw Land with Mark Podolsky

<![CDATA[

Passive cash flow from raw land, how can that be?


Mark Podolsky, The Land Geek, has mastered the raw land deal. Since 2001, he has done over 5,200 land flips, all across the United States that produce regular monthly cash flow.
Why Raw Land?
Raw Land has no renters, rehab, renovations nor rodents. There are 3007 counties in the US with billions of acres of land. There is very little competition. In the raw land market place, there are no hedge funds, no DIY TV shows "Flip this Land", etc.

The average return on investment is 300% on land flips and as much as 1,000% when he sells the land on terms.
How does it work?
Your ideal situation is to find a distressed seller. This is someone who does not live in the state who is delinquent on their property taxes. They are clearly not emotionally attached to this property. To these identified prospects, Mark sends out an offer to buy their property.

The "instant offer" is 25% of market value, including back taxes. He finds that between 3 – 5% of his offers are accepted.

When a potential seller replies, Mark has systemized the due diligence for quick confirmation of
Back taxes
Clear title
No breaks in chain of title
Compelling reason to own the property; what can you do on the property?
The ideal buyer of your new property is a neighbor to the property. If that does not work, there are multiple online marketplaces, ie Craigslist & Facebook Marketplace that work exceptionally well

Because you are purchasing the property at a fraction of the market value, you are likely purchasing for cash. With no bank or lender to answer to, you the ability to be creative with your sale.

The ideal land flip takes 30 days from purchase to sale.
Passive Cash Flow
The perfect sale is when you collect a down payment equal to what you purchased the property for. For the balance, you can use a Promissory Note and Land Sale Contract, which is not subject to Dodd Frank.

A land sale contract does not deed the property to the buyer until the contract is fulfilled. This eliminates the need to foreclose. You can structure the promissory note for the buyer to pay monthly payments equal to a car payment for 84 months with 9% interest.

Need help collecting on your land sale contract promissory note? Mark has created Geek Pay which is available for you to use for payment collection. He has learned to collect multiple forms of payment, checking account & credit cards, to ensure you get your regular payments.

That's how you create passive cash flow.

For more go to
Free Course: