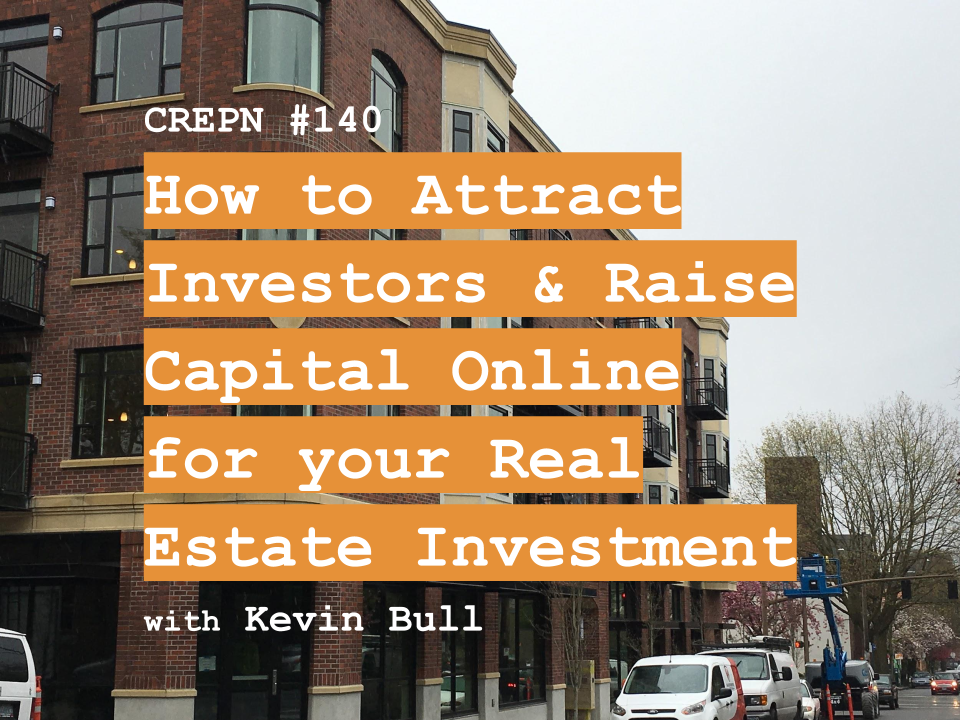 19 Apr

CREPN #140 – How to Attract Investors & Raise Capital Online for your Real Estate Investment with Kevin Bull

<![CDATA[Attract investors & raise capital, and grow your real estate portfolio. [x_audio_embed][/x_audio_embed] It's been said that you are not a true real estate investor until you run out of money.  Because it is only then that you are forced to find willing partners with money if you want to continue growing.  The alternative is to go get a W-2 job.
Have you run out of money yet?
When you run out of your own money, you have to change your real estate investment strategy.  Most investors turn to their intimate circle of influence, family and friends, for their initial capital raise.  Unless your uncle is Sam Zell, you are going to need to reach beyond family and friends to find more investors to keep growing.
Help for Real Estate Investors
For experienced investors, there is help.  
InvesTechs.com
is a marketing firm focused on helping real estate investors / sponsors attract, find, market to and raise the capital you need to grow.  They know your business and how to help you attract capital.
How it works:
First, build the platform.  Investechs meet with sponsors to learn about you and your offering.  Then they help you tell your story to attract investors with the capital you need.
InvesTechs will create your professionally branded webpage and all the content pieces you need; written, video, webinars, etc., to clearly communicate your offer and attract potential investors.
Finding Investors & Promoting your Deal
Once the material has been created, InveTechs use target marketing to put your information it in front of your ideal investors in your area.  These are people with money looking for investment opportunities like yours. By automating this initial communication, you are able to focus your limited time on those investors who are truly interested and more likely to invest.
For these interested investors, you can schedule some calls and face to face meetings to gain further understanding of each other to confirm your offer is a good fit for the investor.
Invest Now
For accredited investors who are ready to commit, Investechs has partners that will qualify and collect the money online.  This proven system will make you stand out to potential investors and allow you to continue to grow your real estate portfolio.
For more go to:
www.investechs.com
[author title="About the Author"]]]>