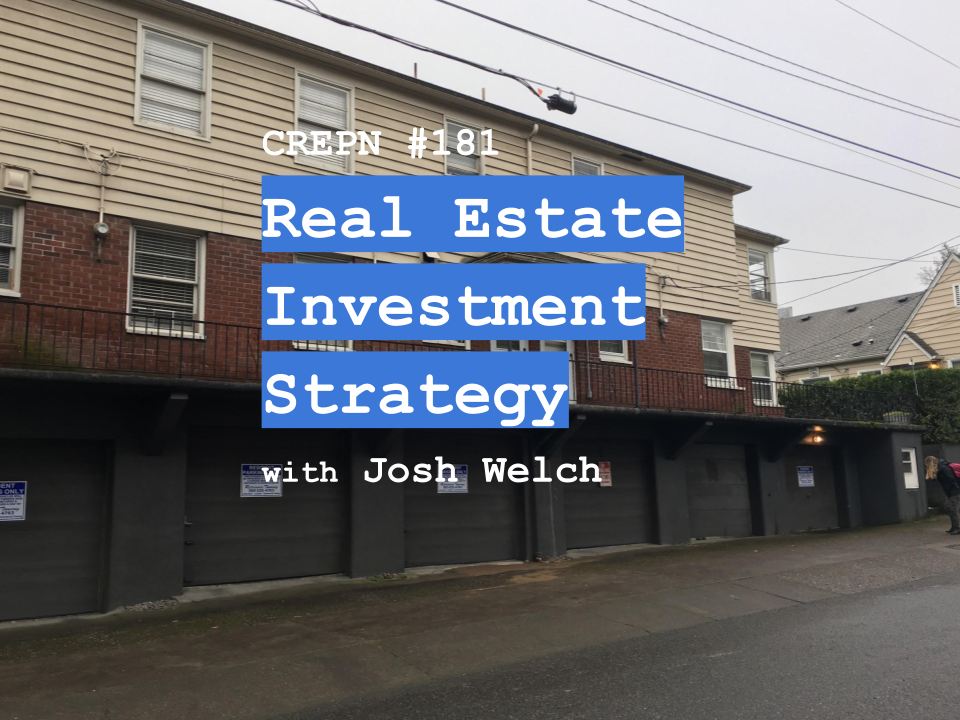 31 Jan

CREPN #181 – Real Estate Investment Strategy with Josh Welch

<![CDATA[

What is your Real Estate Investment Strategy?


Josh Welch, founder of Three Pillars Capital, started like most investors. Single family properties, one at a time. When he figured how long and hard it would be to grow a portfolio of single family, he knew there had to be a better way. The answer: Multifamily.
Real Estate Investment Strategy
Multifamily real estate investing offers multiple strategies. First you have to decide if you want to be active or passive with your investing. Do you go it alone, with partners, or through syndication? These are questions that should be answered before you can really grow.

Josh chose multifamily syndication.
Investment Team
Real Estate investing is a team sport. Three Pillars Capital has a lean team. The members are responsible for Acquisition, Operations, Project Manager, Management and Investor relations. While the General Partner is Three Pillars Capital, its many of its Limited Partners take an active role in the management. The active limited partners do so because they want to learn the multifamily syndication process. Some have aspirations of joining future general partners as fund raisers or potential syndicators themselves.

What better way to learn than by doing?
Market Focus
There is no such thing as the "real estate market". Every market is a market to itself. Three Pillars is a multifamily syndication firm based in Houston, TX and is solely focused on this one market for now. This intense focus gives them an advantage over any outside investor. They know the market inside out.

Knowing the subtleties of each neighborhood in a market gives you an edge over someone looking at Loopnet from thousands of miles away. When you focus on one market, you know which block is the border that separates a good neighborhood from a rough one.

Boots on the ground gives you insight to the micro trends in the market. Are employers hiring, or laying off? What is the demand for units today? When "For Rent" signs begin to appear, you know it before the reporting agencies declare an uptick in vacancy rate. Is there a local effort to redevelop a neighborhood that will bring the whole neighborhood up? The value of real time boots on the ground knowledge cannot be underestimated.
Property Asset Class
Three Pillars Capital focuses on Class C multifamily properties with a value add opportunity. The term value add covers a wide range of things. An ideal opportunity for Three Pillars is a property that is in good physical shape, but has been mismanaged. They can easily create additional revenue and value through rent increases and RUBS with these properties. Other desirable opportunities include properties that can be easily updated with a thorough cleaning, floor coverings, paint and fixtures.
Biggest Risk
Risk is everywhere. As an insurance broker, I am constantly looking at the risk of loss and what can be done to manage it. In most cases, there are three strategies available: Avoid, Minimize, or Transfer.

Going forward, I am asking my CREPN Radio guest to identify the Biggest Risk they face.

Q: What is the Biggest Risk you face?

A: Fear: Fear can be paralyzing. Is the market at the top? Will interest rates rise? What if the market has multiple years of to go and you are not in the market? You miss out. Do your analysis, be disciplined and take a calculated risk. Don't let the fear over run you to inaction.

For more go to: www.Threepillarscapital.com

]]>