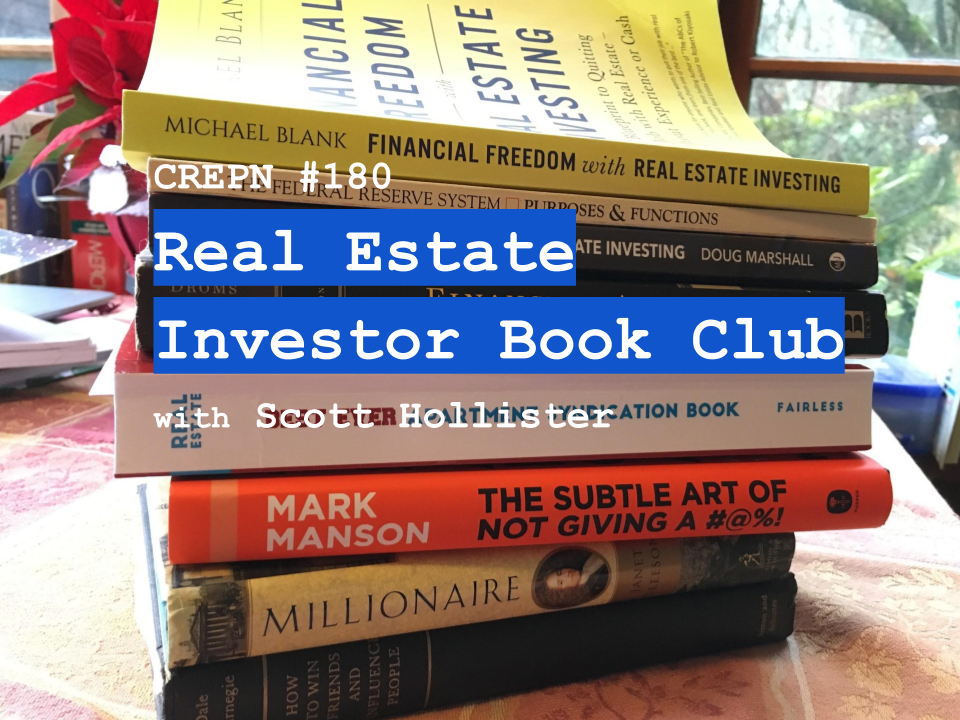 24 Jan

CREPN #180 – Real Estate Investor Book Club with Scott Hollister

<![CDATA[

Real Estate Investor Books provide tremendous value for knowledge seeking investors.

Consider the bargain found in a book. In all likelihood, the author has taken years and possibly thousands of dollars making mistakes in order to learn the lessons detailed in their book. For a small investment, you can learn from their experience, what not to do and what you need to do to achieve success. For this reason, books are a true bargain.
Book Club Interview
Scott Hollister is a former teacher, turned real estate agent, mortgage broker & investor. He is also the host of The Book Club Interview podcast. Here he combines his passion for books with real estate investing. Last year, he read one book per week to prepare for interviews with the author for his podcast.

Recent interviews include
Mat Soresen: Self Directed IRA Handbook
David Allen: Getting Things Done
Jay Papason: The One Thing
Doug Marshall: Mastering the Art of Commercial Real Estate Investing
Regardless of your particular investment strategy; fix and flip, value add, syndication or buy and hold, each strategy shares investing fundamentals. However where some books dable in a topic, others explore the depth of the subtle important nuances.

The ability to publish a book in 2019 is easier than ever. Now all authors have an opportunity to publish, it does not mean that all books are exceptionally well written. Scott finds the books to be similar to the teachers he had in school. While some teachers are more noteworthy than others, he always came away with at least one kernel of knowledge. The same holds true in the books he reads.

Real Estate Investor Books
During the course of my interview with Scott, he provided a list of books I had never heard of that he recommend on specific topics.

Regardless if you flip, syndicate, value add or chose to lend money using your 401k, there are some terrific books that dive deep into the topic.

Some of the books that Scott turned to when getting started and has found interesting:
Jay Scott
The Book on Flipping Houses
The Book on Estimating Rehab Costs
David Lindahl
Multifamily Millions
Emerging Real Estate Markets
Commercial Real Estate Investing 101
Brandon Turner
The Book on Managing Rental Properties
Ken McElroy
The ABC's of Real Estate Investing
The ABC's of Property Management
Joe Fairless
Best Ever Apartment Syndication Book
Gene Trowbridge
It's a Whole New Business; The How-to Book of Syndicated Investment Real Estate
George Antone
The Biggest Risk
Risk is everywhere. As an insurance broker, I am constantly looking at the risk of loss and what can be done to manage it. In most cases, there are three strategies available: Avoid, Minimize, or Transfer.

Going forward, I am asking my CREPN Radio guest to identify the Biggest Risk they face.

Q: What is the Biggest Risk you face?

A: Biggest Risk: Under estimating the cost to rehab a property and the time needed to complete it.
Solution: Have multiple Exit Strategies incase it all goes bad.
For more go to: The Book Club Interview podcast
Face Book: https://www.facebook.com/bookclubinterview/
Bigger Pockets: https://www.biggerpockets.com/users/MrHollister