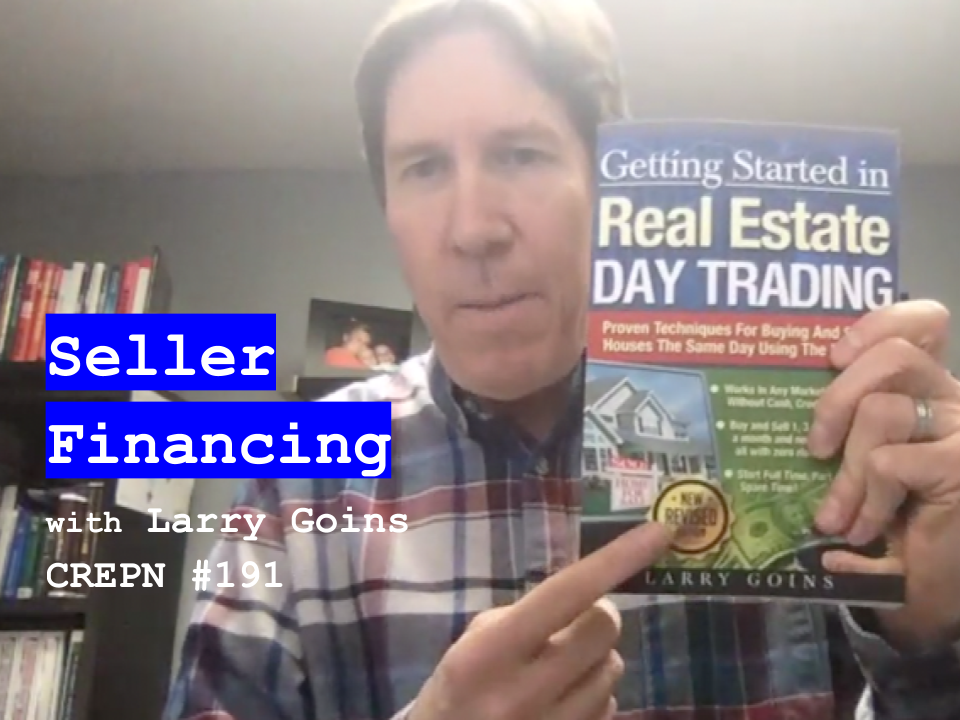 11 Apr

Seller Financing with Larry Goins – CREPN #191

<![CDATA[

Seller financing is a viable strategy for real estate buyers and sellers.


Since 1986, Larry Goins has been buying and selling real estate. He has bought and sold residential, multifamily, commercial, developed subdivisions, mobile home parks and more. For financing, he has utilized multiple methods including traditional banks, partners, hard money, lease options and seller financing.
Generating Prospects – Sellers
To generate multiple leads, requires a sophisticated marketing campaign utilizing postcards, Facebook, and pay per click Google Ads. This is all in an effort to make the phone ring. When the phone rings, a screener will qualify the opportunity. If it sounds plausible, Larry makes a call and offers a full price cash offer.

The typical marketing campaign numbers look like this:
Postcards mailed to identified suspects: 25,000 per month
Inbound calls from postcards: 200 per week / 800 per month
Average response: 3%
Results: 5 – 20 deals per month
Developing a Buyers List
Developing a large buyers list is key to your success as a wholesaler. More potential buyers means more success. Larry and his team utilize the following methods of marketing:
Bandit signs: 25-30 around the neighborhood where the property is located.
Local Facebook groups
Craigslist
Website
Bigger Pockets
For each method, they collect emails and grow their email list for the next property they have for sale.
Wholesaling
Wholesaling is an simple way to make money without the need for a lot of capital. Larry authored the book, Getting Started in Real Estate Day Trading and has students from around the world employing his system.

The ideal property will be purchased well below market, but that is because the seller has problems. When you find the person with a problem who is willing to part with their property for very little, you have the first ingredient necessary to make a profit.

As soon as a property is put under contract, the marketing team takes over. First they go to the property and take numerous photos of the property including all interior, exterior and building systems. Next they market the property to their buyers list.

The most efficient model for wholesaling provides for a purchase and sale on the same day, using none of the wholesalers money. The net result of a successful wholesale is a profit after selling a property he never had to invest in, but found both the seller and the buyer.
Seller Financing
There are two sides to Seller Financing.

When you are the Buyer:
If a Seller does not agree on your offer price, but they are interested in continuing to receive monthly income, Seller Financing can work. When negotiating with a seller, her are some key points to make with the Seller,
They will continue to receive monthly payments,
You will take care of insurance & taxes.
They will no longer have to deal with tenants,
You will help reduce their capital gains tax using an installment contract.
From here, you can either operate the property as a rental, sell to a new buyer who will assume the loan after you collect a down payment. For example, you buy at $35,000 and sell for $45,000 with $10,000 down and assign the mortgage to the buyer.

Another way is to utilize "wrap mortgage". This is when you acquire the property on terms from the seller, and then sell the property on contract to a buyer. To make this work, you need to acquire for a low monthly payment, and then sell on a higher monthly payment. You make the money on the spread.

When you are the Seller:
If you have the financial ability to acquire a property, seller financing is a great way to make substantial returns. Larry and his team try to buy a property for 30% of what they can sell it for on contract. He calls this "Flip to Riches".

Best outcomes:

If the buyer does not make their payments, you foreclose and resell the property and collect another down payment.
If your buyer refinances, you get paid off.
Buyer pays as agreed.
In all cases, you have to be transparent with the seller about what your intentions are.

BIGGEST RISK
Each week I ask my guest what is the Biggest Risk they see that real estate investors face.

BIGGEST RISK: Lack of education. If you don't know what you are doing, you will get burned.

How to manage the risk? Get educated. Read books, listen to podcast, get a mentor.

For more go to:
Call: 877-LAR-RYGO

]]>