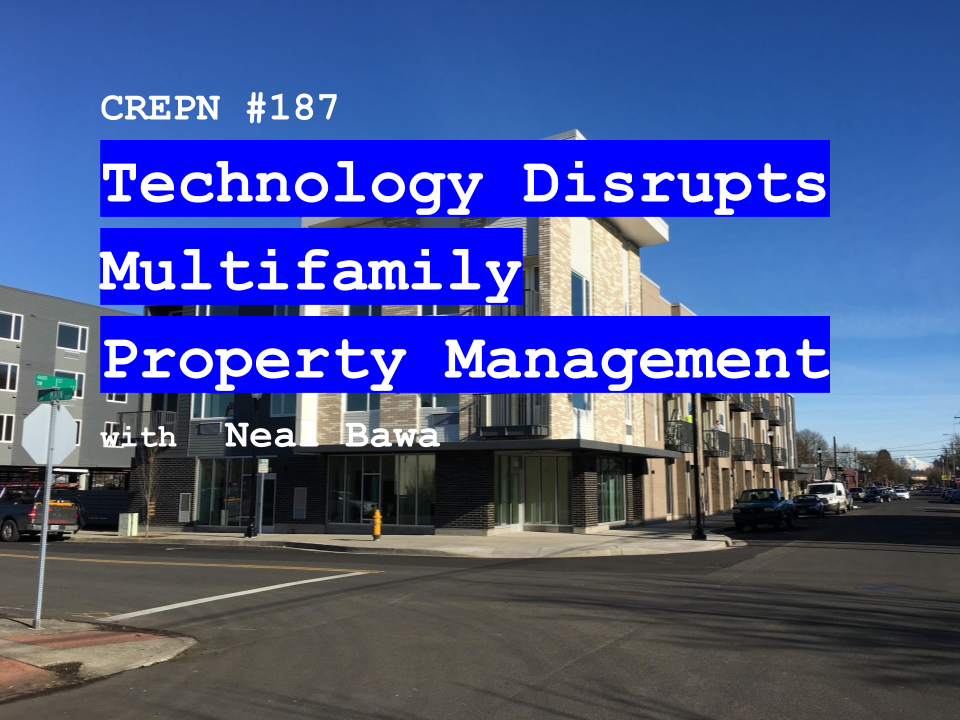 14 Mar

CREPN #187 – Technology Disrupts Multifamily Property Management with Neal Bawa

<![CDATA[

Technology is disrupting Multifamily Property Management, and the results are impressive.


Neal Bawa, founder of Grocapitus Investments and Multifamily U is a technologist by education, who came to real estate investing out of necessity. It was when his boss elected to purchase a building rather than continue to pay rent, that Neal was forced to learn on the fly how to make the new property ready before their lease expired and penalties ensued.


Like most of us, the lessons learned under pressure are permanent. Having caught the bug for real estate, Neal first invested in single family homes, but soon realized the challenge to scale. Then he found and invested in thirteen syndications as a passive investor. However, he was not getting the returns he expected.


Realizing there was a vacancy problem that was preventing him and his fellow investors from receiving distributions, he asked the syndicator if he could market for prospective residents. Soon, he developed a system that was generating qualified prospects to managers who were able to fill the vacancies. When the property filled up, investors started receiving distributions. The increased NOI drover the value up, and again made investors very happy.


When the asset managers asked Neal what he wanted in return, he asked for permission to participate in their weekly asset management calls. They told him the calls were boring, full of acronyms, and he would not like them. But he did.


Over the course of 200 such calls, he got a front row seat to the inner workings of multifamily operations on a day to day basis. He realized that each person in the operation had a particular expertise, but no one person, knew all the pieces. Except for him, the note taking technologist. Neal realized he had learned something that not everyone else knew.


To make certain he did not forget these newly learned lessons, he started a wildly successful Meetup group in San Francisco where he shared everything he learned about multifamily investing. Soon the members became motivated, and wanted to invest with Neal. He had the knowledge and the support to become a multifamily syndication sponsor.
Technology Disrupts Multifamily Property Management
In the 200 weekly operations meetings, Neal recognized some limitations in the existing property management system for filling vacant units. As a technologist, he identified the choke points where it was time for technology to disrupt the status quo.

Neal developed a technology hardware and software system with virtual assistants that attract, screen, schedule, and remind prospective tenants of their scheduled tour for his properties. For 2018, his system attracted 30,000 qualified resident prospects for properties he owns. This flood of qualified prospects accounted for 64% of all leases signed. Now, property managers are able to focus on showing units, signing leases and do more operational tasks without the distraction of marketing for empty units.
Additional Value from Technology
Now that the units are full, Neal realized a second opportunity to leverage his technology and disrupt the income stream to add more value to the property. There were missed sales opportunities for add ons like carports, washers & dryers, etc. Neal observed that property management income was a percentage of all rents collected. While they were focused on a big number like the apartment rent, they did not get motivated about a little number that would pay them an additional $1.20 commission for leasing a carport for $40 per month.

For Neal and his fellow investors this lack of focus was keeping them from realizing a significant long term value. The $40 per month carport rent was $480 per year in income. That same $40 per month translates, at a 6 cap rate, to an additional $7,680 in property value per carport! If you have 100 carports, that's as much as $768,000!

So, how do you get someone to focus on something they don't value? You don't. Instead, Neal again leveraged his technology and created a follow up task for his virtual assistants. Now, the virtual assistants contact the new residents to make the additional sales. And his property managers take care of what they do, lease, collect rent and turn units.
Multifamily Lessons Applied
Since these beginnings, Neal started Multifamily U and Grocapitus Investments which are education and multifamily syndication investment platforms.  Today, he syndicates multifamily properties all over the US and continues to apply the lessons he learned, and the technology to make his properties more profitable.

BIGGEST RISK
Each week I ask my guest what is the Biggest Risk they see that real estate investors face.

BIGGEST RISK: Opportunity Zones. When millions of dollars are pumped into distressed areas with no fundamentals for growth, why will these areas become successful?

How to manage the risk?: Don't invest as a Class C area with no growth potential solely as a strategy to avoid paying capital gains taxes. Be wary of investing in an opportunity zone if you do not understand the fundamentals in the area.

For more go to:
]]>