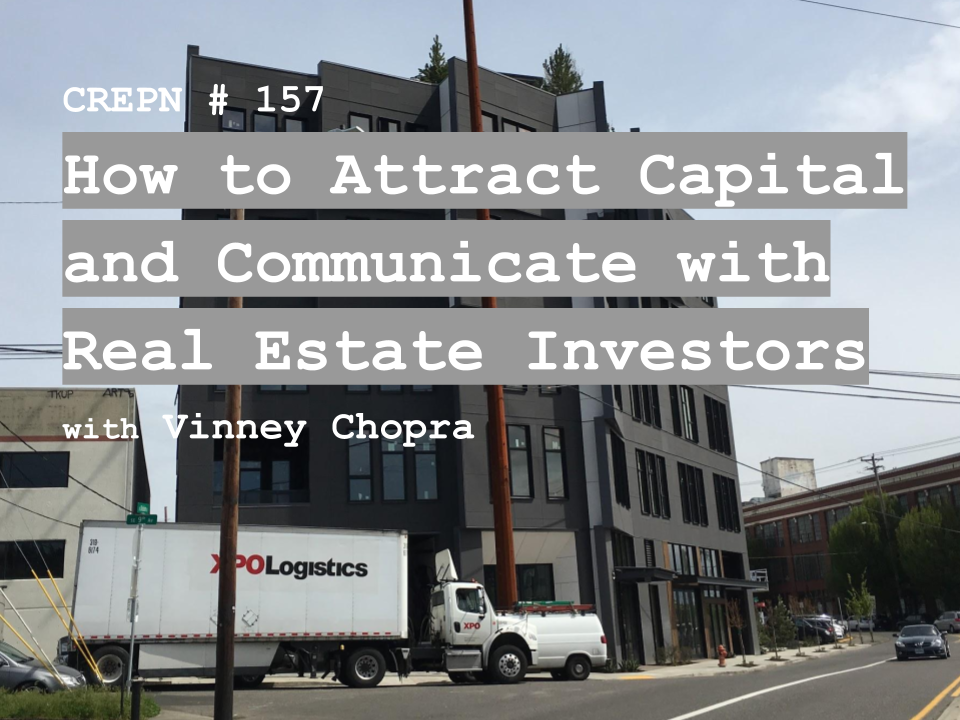 16 Aug

CREPN # 157 – How to Attract Capital and Communicate with Real Estate Investors with Vinney Chopra

<![CDATA[To accelerate the growth of your multifamily portfolio, you need to know how to attract capital and communicate with real estate investors. [x_audio_embed][/x_audio_embed] Vinney Chopra has raised millions of dollars and syndicated over 26 multifamily properties.  Today, he shares the key to scaling up quickly; attract capital and communicate with real estate investors.  
Your Potential Real Estate Investors
To attract captial is not easy.  To be successful, you need to always be looking for capital.  If you are syndicating, you are looking for passive investors to invest as Limited partners in your LLC.
The easiest money usually comes from those you are closest to, your family.  These people know you and are most likely to support you if they believe in the opportunity you present.
The next closest group of eligible investors will be your acquaintances.  Again, these people know you and are likely to support you if they are able.
Now that you have introduced your investment opportunity to your closest circles of influence, it's time to check with your business associates.  These are the professionals you know that have a retirement account. They are likely looking for ways to make a better return than what they are currently receiving.
The Opportunity for Real Estate Investors
The key to attract capital is communicating the opportunity to your potential investors.  You can easily do this with a "credibility kit".  This is where you share with potential investors the knowledge you have gained. Introduce your investment team, and the criteria you will use for selecting a property.    The goal is to convey to the investors that they will not lose their investment.
Educate the investors on why investing in an emerging market is a sound decision.  Explain what you know about the growing demand for multifamily, job growth and the opportunity to increase rents.
When to Attract Capital
You can never start too soon.  Raising money if full of rejection.  Investors pull out at the last minute all the time.  So, you need to have a long list of potential investors that can fill a capital needs at any time.  A deal is not a deal if you don't have the funds to close.
Vinney has overcome the issue of investors backing out or not having enough money to close.  He does this by offering investors 2% on their funds from the day the deposit until the asset is acquired.  This guarantees closing, and the provides the lenders assurance the down payment is available.
Keep records.  Vinney recommends a spreadsheet where you identify the goals and dreams of the investor and keep records of the dates and what you discussed.  This allows you to easily reach out when you have a deal.
Your ability to close deals will raise your stature with the real estate brokers in the market.  The more deals you close, the more deals you will be presented.
Communicating with Investors
Vinney recommends regular, constant communication with investors.  He leverages technology with voip calls, webinars, videos, emails, etc.  He does such a good job that in 12 years only 5 investors have actually visited a property.  
When you communicate regularly with investors, they will feel comfortable and tell their friends about the good job you are doing and will want to invest with you.
For more go to:
Text "Syndication" to 474747
FREE Deal Analyzer: http://deal.multifamilyacademy.com/
Call / text (925)766-3518
[author title="About the Author"]]]>