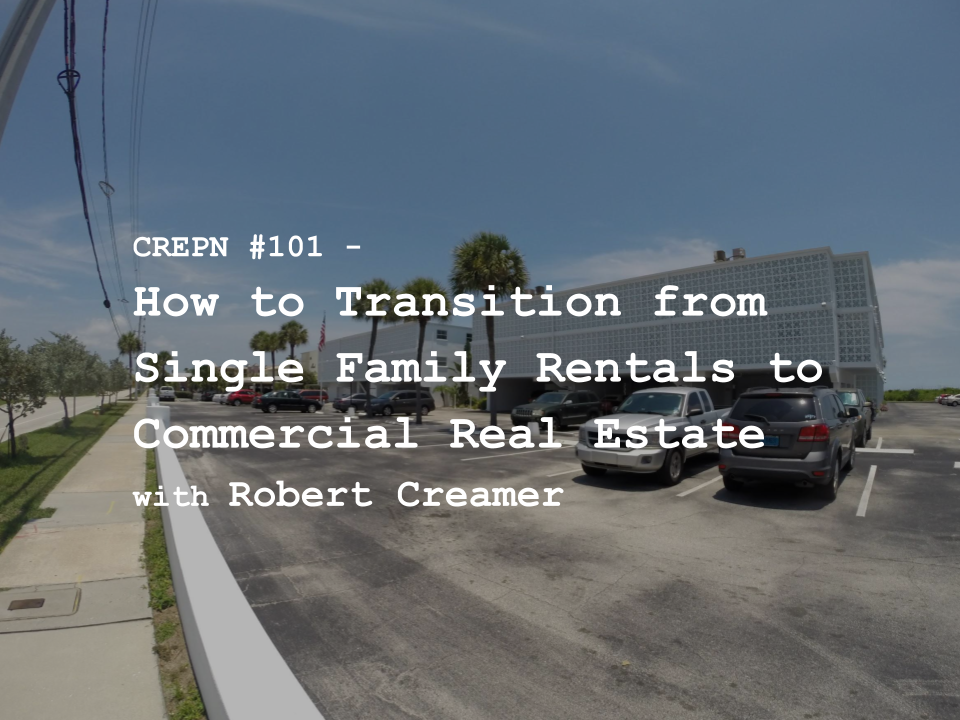 20 Jul

CREPN #101 – How to Transition from Single Family Rentals to Commercial Real Estate with Robert Creamer

<![CDATA[How do you transition from investing in Single Family Rentals to Commercial Real Estate? [x_audio_embed][/x_audio_embed] Most people recognize single family properties because they live in one.  It's recognizable and comfortable.  The barrier to entry is low.  Banks are willing to lend on the borrower's credit score, job history and the property appraisal. Many investors start in single family residential, and never consider commercial real estate.  While single family rentals is an investment strategy, the most significant increase in wealth consistently comes from investing in commercial real estate. For investors who are stuck in single family or just getting started, and possibly afraid of larger properties, here are the steps needed to get into commercial real estate.
The Steps to Transition
Get the Knowledge
You need to make some connections with a few key professionals.  
A Commercial Lender who is willing to meet with you and help you determine the lending parameters they can lend on.  It will be useful if you know the following terms:

Net Operating Income; NOI

Capitalization Rate; Cap Rate

Cover Ratio

Meet a Commercial Real Estate Broker who will help narrow your search to a property type, size and location that can meet your needs.  The broker will help you understand the ins & outs of commercial real estate and figure out why you want to pursue an opportunity in commercial real estate.
You need to have a clear understanding of who you are and what you are looking for.  Explain your "why" to the broker and ask for input from the broker to gain confirmation you are on the right path, or learn what might be a better option for you.
Ask to See Some Opportunities
Now that you have an understanding of what is required, and a level of investment you feel comfortable pursuing.  It's time to analyze some opportunities.  Ask a broker to show you some deals.
Look at potential deals and even deals that have already closed and run the numbers.  The more you do this the more comfortable you will become, and you will be able to recognize a good opportunity when it presents itself.
Analyze as many deals as you can.  
Pull the Trigger
You will never know everything about real estate investing.  Each investment will teach you something new.  Your  team will help you make a good decision.  In fact, the larger the deal, the more help you will get.  Why?  Because the bank will not let you make an investment into a property if the numbers do not work.  
For more go to:
Robert Creamer
Email: [email protected]
Phone: 214.564.8909
[author title="About the Author"]]]>