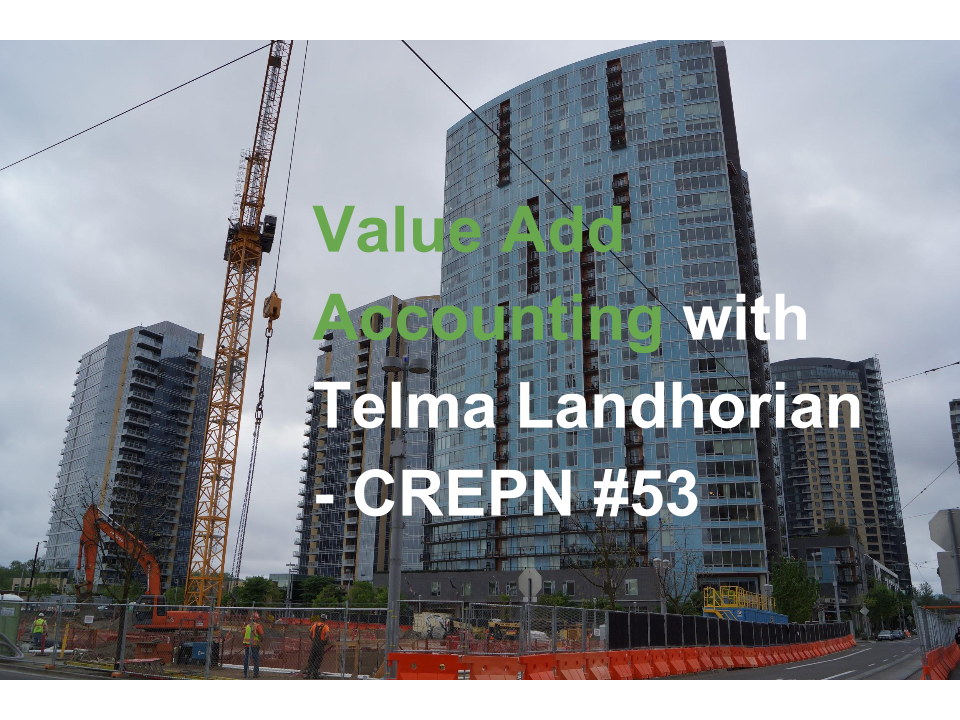 12 Aug

Value Add Accounting with Telma Landhorian – CREPN #53

<![CDATA[Commercial Real Estate value is simple.  What's the Net Operating Income?  If you don't keep up with market rent and expenses, your property's value will suffer.  Value Add Accounting is an easy way to increase the NOI and the value of your property. [x_audio_embed][/x_audio_embed] SUBSCRIBE iTunes Stitcher Telma Landhorian is a CPA & MBA with experience in Commercial Real Estate.  She makes the case for an outsider's professional review.   One client gained $20M additional valuation after working with Telma. Real Estate investing can be so lucrative that even if your bookkeeping is sloppy, you can make money.  You know this to be the case when the selling broker's listing offer is missing actual and "trailing 12" expenses and uses "underwriting average".   If the numbers can not verified, the value is suspect. The primary goal of investing is increase value and not lose money.  The next goal is to generate a cash flow, a return.   In order to grow a portfolio, operations have to be delegated, and outsourced.  This includes property management.  The goal of property management is to keep the units rented and the property maintained.   In larger primary markets, professional property management firms compete for clients.  To compete, they have to provide valued services.  It is the market.  These firms tend to provide more comprehensive reporting and the ability to control expenses and NOI. Investors with properties in secondary, tertiary and rural markets, will likely have less qualified competition for property management.  At this level, there is a lack of accounting sophistication and consequently cost controls are likely to not be present. 
If it ain't broke don't fix it.
The motivation to look into the numbers is minimal, especially if you are making money. But eventually, the day comes when you want to sell or refinance.
If you have an urgent need to sell, or borrow money, you probably will get a lot less than you could.  All because your books are not in order.
Value add accounting:
The good news, you can fix this. If ownership is willing to take have a trained professional, an outsider, take a look at the books and asses what is.
First
– Look at the current books.  If the NOI varies greatly from month to month with no explanation as to why, you likely have a problem.
The assessment takes a look at each and every line in the operation budget to determine how it compares to the market, and if any improvements can be made.
When irregularities are found, policies and procedures are made to correct.
Next
– Implement the changes.
In order for change to be adopted by the staff, it has to be demonstrated that ownership supports the change.  Without this, nothing will change.
Resistance to change is natural.  It is important to explain the benefit of making the change to each team member in a way that does not make them feel threatened, or disposable.  Show how the changes will improve the entire operation.
Ongoing
– It usually takes about 6 months to make the transition from the old way to the new way.  The procedures need to include regular review and monitoring for real success.  The pain of change is the price of progress.  The benefits will be lasting and help increase the value of the property.  
For more information contact Telma Landhorian
https://landhorian.com/
https://www.linkedin.com/in/telmalandhorian
case study: 
https://landhorian.com/case-study/
[author title="About the Author"]]]>