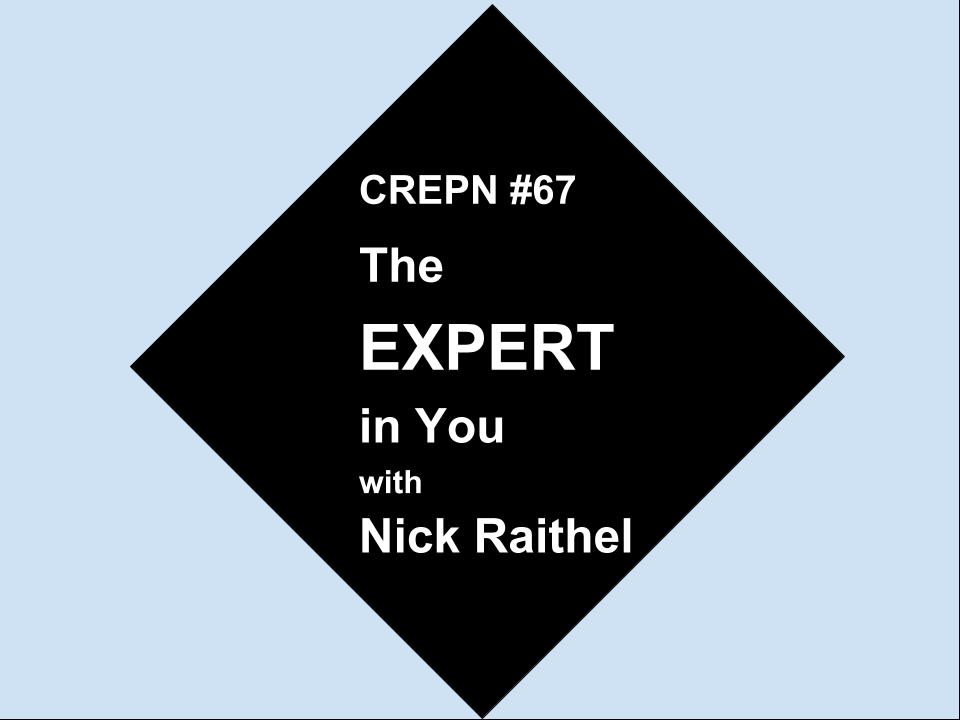 18 Nov

CREPN #67 – The EXPERT in You with Nick Raithel

<![CDATA[Are you the Expert your Commercial Real Estate clients and prospects need to solve their problem? Have you put pen to paper, typed a how to manual or authored a book? [x_audio_embed][/x_audio_embed] If you really want others to recognize you as the expert, you have to have something written they can take with them after you gone. One proven way to increase your status as an expert is to be an author.  The written word gives prospects and others the opportunity to learn from you about how you solve a problem or do what you do better than others.  A book can define and accelerate your commercial real estate investment strategy.  Today's guest is Nick Raithel, Creator: The 7-Hour Book takes us through how you can increase your value value to your clients and prospects when you are an author with a book.   This is a real way to differentiate yourself from the competition.  A book can lead you to much more.  It can be a springboard to additional opportunities, increased visibility in your community, speaking engagements, keynote speaker in front of your ideal prospects, products, coaching, travel  and more.
What should I write about?
For some topics that are sought after and you know the answers to download your free:
5 Winning Ideas For Your Book
Ok, I've got my topic.  So, how do you write a well written book without locking yourself away and ignoring your business and clients?  
Engage an Expert.
For as little as seven project hours, you can work with
The 7-Hour Book
, through hour long Skype calls, you can work through the process of pulling the book out of your head.  The end result will be a professionally formatted, written, and designed book you will be proud to present.
Once written you can market it on your site, in your email signature, on Amazon, and more.
While it is often said the most difficult step is to start, starting can be overwhelming if you don't know where to start.  Now what's your excuse?
For more information go to:
http://contentcorps.net/
]]>